Are you looking for an easy to ride, cheap and street legal dirt bike for sale? If yes, you should look no further than 2019 RPS Magician 250cc Dirt Bike. This dirt bike not only saves you money; but looks beautiful also.
The RPS Magician Enduro Dirt Bike has 250cc and 4-stroke manual transmission engine. This street legal dirt bike is ideal for those who are looking to hit off and on road. Whether you want to get around school or around the city or the trail, the RPS Magician dirt bike is a perfect alternative to go for.
This 250cc dirt bike can hold riders up to 400 pounds comfortably. Equipped with high or low beam headlight, turn signals, electric start and kick start backup, the dirt bike will last for years and perform very well in any condition.
Here are some of the best features of this 2019 RPS Magician 250cc dirt bike discussed below: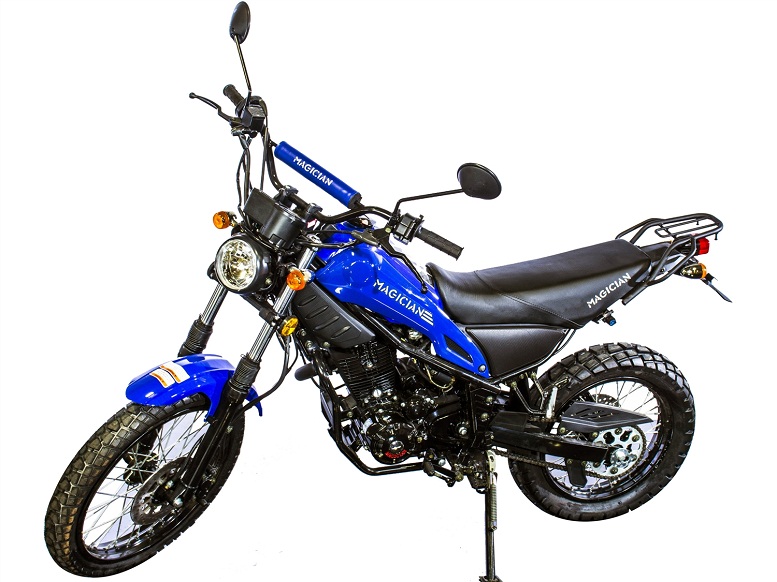 Instrument Panel –
The dirt bike has clear and direct instrument panel. This means, it comes with an easy to read speedometer which allows you to maintain the control even in high performance situations.
Powerful Engine –
The RPS Magician dirt bike features powerful, air-cooled, four-stroke and single cylinder engine that delivers maximum power as possible. With a highly sophisticated air cooling system, the engine will keep purring.
Front Disc Brake –
The dirt bike is fitted with a large front disc brake for additional security. Because of its larger size, it can make sure much smoother and faster stopping power. With its enormous braking power, the dirt bike can ensure your safety.
Rear Drum Brake –
Apart from the disc brake, the Enduro dirt bike comes with reliable rear drum bike that offers ultimate braking power. This means, you can stop your bike at any moment smoothly and consistently.
Rear Bike Rack –
There's a heavy duty rear storage rack that allows you to carry additional essentials on your bike.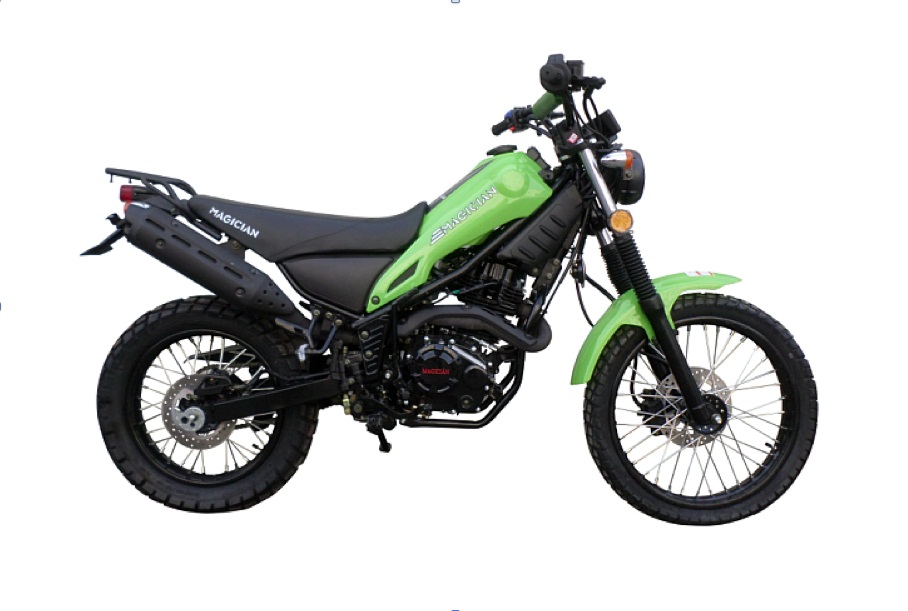 Rear View Mirror –
The bike has wider rear view mirrors, enabling a greater level of visibility. As a result, you can see other drivers clearly while changing lanes.
Headlights –
The headlights are bright enough to light your way through the wide open roads and offer a large coverage area for driving during night time.
Electric or Kick Start –
Electric start features make the starting of dirt bike simple and easy for anyone. With kick start ignition and battery, you can take a hike. It's a great relief to have both options available.
Where to Buy 2019 RPS Magician 250cc Enduro

Dirt Bike?
TX Powersports is an authorized licensed and bonded dealer for every powersports product. Every product you buy from us is backed by the full support of the manufacturer. With our unparalleled customer service, you can rest assured that your satisfaction is of utmost significance.
At TX Powersports, we provide better deals and discounts on 2019RPS Magician 250cc Enduro Dirt Bike for sale. You are guaranteed to be satisfied with our products, prices, services and their performance. For more information about our dirt bike, please give us a call now on 1-877-214-4563.